S
ocial Responsibility
We are cognisant of the growing socio-economic needs of our nation and are therefore at the forefront of the belief that as industry players, we need to sustain the equilibrium between economic development and the welfare of society as a whole.
Firstclass Logistics is committed to positively impacting our immediate environment through our pre-selected charities, with a hands-on approach to continuous improvement. Education is the cornerstone to our country's development and we will continue to prioritise this need, through financial aid programmes to locally disadvantaged schools. We provide these children with an opportunity to rise above their own personal circumstances, by exposing them to possibilities, to demonstrate that hard work and perseverance can make any dream a reality.
We are equally aware of the Rhino crisis in South Africa and recognise that the future of wildlife is inextricably linked to the communities that share its habitat "on this great land we call home" Our involvement in this foundation is through membership and donation as well as active campaigning within our circles of influence.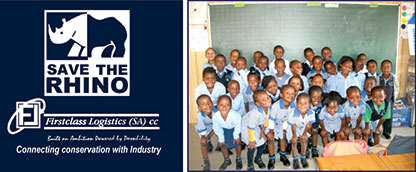 "A small body of determined individuals fired by an unquenchable belief in their mission can alter the course of history"

Mahatma Gandhi
GET IN TOUCH WITH US
BUSINESS & TENDER ENQUIRIES
Gashan Naidoo
+27 11 826 4417
gashen@fcl-sa.co.za
Amsavanee Naidoo
+27 11 826 4417
amsavanee@fcl-sa.co.za
HR & CAREER ENQUIRIES
Pregasen Govender
+
27
31 569 5207
pregasen@fcl-sa.co.za
HEAD OFFICE –JOHANNESBURG
41 Main Reef Road, Lilianton
Witfield, Boksburg
Tele: +27 11 826 4417
Fax: +27 11 826 4418
DURBAN
6 Bexhill,
453 Windermere Rd
(Lillian Ngoyi Road)
Morningside
Durban
Tele: +27 31 569 5207
Fax: +27 31 303 8146